Tarangini – An Odissi Dance performance
OCTOBER 6, 2017
A multicultural evening of dance was presented at Conexus Arts Centre by Cultural Connections Regina.  The evening featured dances by North Central Family Centre; Kolos Dance Academy; Maharlika Group.  (First nations, Ukrainian and Filipino  dance groups) as well as  a renowned  Odissi dance group from India  called Tarangini. (brought as part of Canada 150 celebrations).  It was an evening of thrilling dance art, celebrating the diverse reality of Canada today.
India Night 2017
September 30th, 2017,  Ballroom, Delta Hotel, Regina
Our annual fundraising gala India Night 2017 was a huge success and  completely sold out!  Guests were treated to an evening of delectable Indian cuisine,  graceful classical Indian dances, a scintillating First Nations dance and a memorable speech by the Honourable Harjit Singh Sajjan – Minister of National Defense.  Greetings were brought by the Lieutenant Governor, the Honourable Vaughn Solomon Schofield, and other local politicians.
CHITRAVALI – a Classical Dance Performance
A Classical Dance performance by Rama Vaidyanathan with 5 musicians  (as part of Canada 150 celebrations) was held on Friday August 18, 2017 at the Royal Saskatchewan Museum
All net proceeds went to the  Hare Krishna Temple
CLASSICAL DANCE WORKSHOP
We had a well known Bharatnatyam dance artist, Rama Vaidyanathan,  coming directly from India on August 18, 2017. She  graciously agreed to do a worship in conjunction with New Dance Horizons, Regina to enhance & educate  about the classical dance styles & music of India……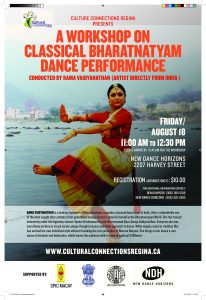 Official Launch Event – April 19th, 2017. Delta Hotel, Regina
MEDIA ADVISORY
New Non-Profit Launches to Support Local Charities
REGINA, April 18, 2017 – Media are invited to attend a press conference to launch Cultural Connections Regina, a new non-profit with a goal of hosting high quality, inclusive cultural events and empowering grassroots charities.
When: 10 am, April 19, 2017
​​Where: Campania A, Delta Hotel, 1919 Saskatchewan Drive
The following officials will bring congratulations:
​​- Hon. Ralph Goodale, Minister of Public Safety
​​- Representative of the Provincial Government
​​- Leader of the Official Opposition
​​- Mayor Michael Fougere​
​​​
Cultural Connections Regina will announce which local charity will be the beneficiary of its first fundraising event, the India Night Gala to occur September 30, 2017.